Today, Breakthrough Energy officially welcomed a second cohort of
Breakthrough Energy Fellows
(BE Fellows) to its global program designed to support the development of cutting-edge climate technologies. With the addition of these new Fellows, the program now includes a total of 62 leaders working on nearly 30 breakthrough technologies that have the potential to significantly reduce and abate greenhouse gas emissions.
BE Fellows is a signature program of Breakthrough Energy, the climate organization founded by Bill Gates. The program provides innovators from across the globe with funding, mentorship, education, and access to the Breakthrough Energy network to support their climate technologies on the path from early development to widespread deployment. The program includes a total of 49 Innovator Fellows and 13 Business Fellows who provide counsel to help bring these technologies to market.
Experts agree that the only way to avoid the worst impacts of climate change is to reduce global greenhouse gas emissions from 51 billion tons a year, to net zero. The world needs unprecedented technological transformation in almost every sector of modern life to achieve this goal, but today's startup ecosystem is not designed to support climate innovators with the scale and urgency required. The BE Fellows program is helping to bridge that gap.
"Our second cohort of Breakthrough Energy Fellows represents a group of brilliant, global innovators and climate thought leaders, all sharing a deep-rooted commitment toward finding innovative solutions to solve the climate crisis. These incredible individuals are working every day to introduce novel technologies and disruptive approaches to a variety of industries that will have the power to reimagine our sustainable future," said Ashley Grosh, Vice President, Breakthrough Energy Fellows. "To succeed, these leaders need a uniquely tailored set of resources, and that's why we created the Fellows program. We are very excited to welcome this remarkable group into our second cohort and support them as they take on our most pressing clean technology challenges."
BE Fellows focuses its support on technologies providing solutions across Breakthrough Energy's Five Grand Challenges. The second cohort consists of 46 Innovator and Business Fellows working on carbon capture, storage, and sequestration; cement; electrofuels; food and agriculture; hydrogen; long duration storage; and steel projects. The program also includes projects in biofuels, water treatment, HVAC systems, light weighting, and renewables. All Fellows were selected through a competitive application process and rigorous technical evaluation and must demonstrate and model an ability to reduce 500 million tons of carbon dioxide per year at scale.
In the program's initial year, the first cohort of BE Fellows has accomplished a great deal and continues to benefit from the program as they work to commercialize their technologies.
"The progress and success of our first cohort is a testament to their expertise and drive, and the inherent need for their innovations in today's climate space. The new cohort of Fellows will not only benefit from Breakthrough Energy's resources and support, but also from collaborating with the first cohort—making this an invaluable experience," said Grosh.
Nominations and pre-applications are now open for the third cohort of BE Fellows, who will join the program in 2023. Interested individuals can learn more on the Breakthrough Energy website. Details on the 2022 class of Fellows are below and on our website.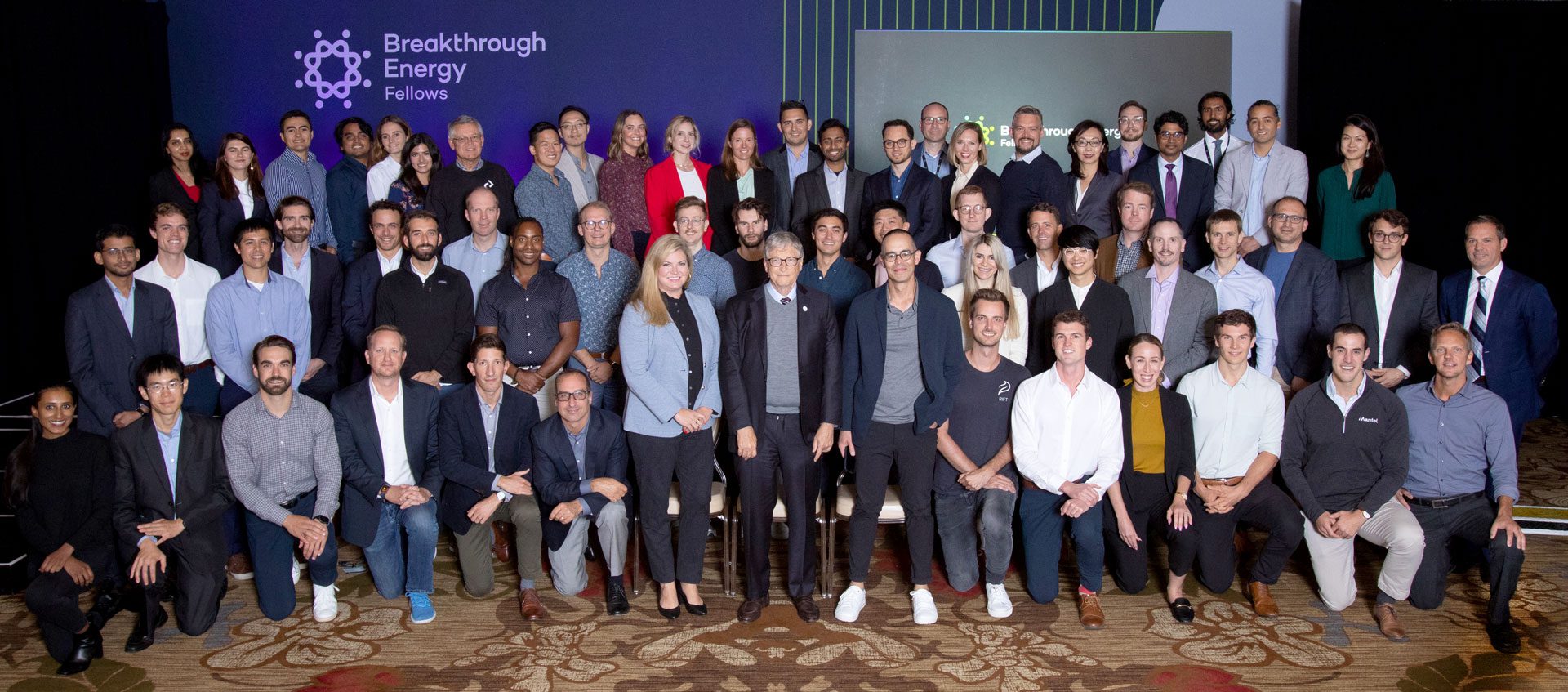 BE Fellows Second Cohort
Innovator Fellows
Caleb Boyd, Molten Industries
Stanford, CA
Shelby Breger, Conduit Tech
Fort Lauderdale, FL
Kevin Bush, Molten Industries
Oakland, CA
Karin Calvinho, RenewCo2
Cranford, NJ
Danielle Colson, Mantel Capture, Inc.
Boston, MA
Aaron Fitzgerald, Mars Materials
Oakland, CA
Christine Gabardo, CERT Systems Inc.
Toronto, Canada
Kristian Gubsch, Mars Materials
Oakland, CA
Christian Haakonsen, Unemit
Berkeley, CA
Cameron Halliday, Mantel Capture, Inc.
Boston, MA
Brian Hardin, Aluminio
San Francisco, CA
Colin Ho, Hgen Energy
Los Angeles, CA
Ian Hu, Phycobloom
London, United Kingdom
Alex Ip, CERT Systems Inc.
Toronto, Canada
Sam Kanner, Aikido Technologies
San Francisco, CA
Claes Kollberg, CemVision AB
Mörbylånga, Sweden
Daniel Kopp, Queens Carbon
Pine Brook, NJ
Kevin Kung, Takachar
Vancouver, Canada
Anders Laursen, RenewCo2
Cranford, NJ
Vidyut Mohan, Takachar
New Delhi, India
Felix Nelles, Litherm Technologies
Krefeld, Germany
David Ortega, Phase Biolabs
Nottingham, United Kingdom
Marisa Reddy, Conduit Tech
Boston, MA
James Reeves, Aikido Power
Milton Keynes, United Kingdom
Sean Robertson, Mantel Capture, Inc.
Boston, MA
Paul Sandberg, Cemvision AB
Nokomis, FL
Lex Scheepers, RIFT
North Brabant, Netherlands
Vincent Seijger, RIFT
North Brabant, Netherlands
Jules Thiery, Gencores
Somerville, MA
Anca Timofte, Holocene
San Francisco, CA
Adam Uliana, ChemFinity Technologies
New York, NY
Ever Velasquez, ChemFinity Technologies
New York, NY
Mark Verhagen, RIFT
North Brabant, Netherlands
David Veysset, Aluminio
San Francisco, CA
John Waite, Phycobloom
London, United Kingdom
Molly Yang, Hgen Energy
Los Angeles, CA
Bingbin Yu, Aikido Power
San Francisco, CA
Business Fellows
Kristin Brief
Boston, MA
Edouard Bulteau
Paris, France
Matthew Hammond
Nuremberg, Germany
Alice Havill
Denver, CO
Jesse Lou
Boston, MA
Benjamin Margolis
Silver Spring, MD
Hiranmayee Vedam
Chennai, India
Jennifer Wagner
Charlottetown, Canada
Jane Zhang
Sugarland, TX
Explorer Grants
Olaf Adan, Cellcius
Eindhoven, Netherlands
Dickson Ayuka, UjuziKilimo Solution
Nairobi, Kenya
Louise Berben, Non-Aqueous Redox-Flow Battery
Davis, CA
Brian Bosire, UjuziKilimo Solution
Nairobi, Kenya
Jining Guo, Thin Air Fuels
Melbourne, Australia
Gang Li, Thin Air Fuels
Melbourne, Australia
Gustavo Marquez, RockFix
Stanford, CA
Collin Smith, AmmPot
Cambridge, United Kingdom
Wil Srubar, Minus Materials
Boulder, CO
Evans Wadongo, UjuziKilimo Solution
Nairobi, Kenya
Allen Liang, RockFix
Stanford, CA
Melissa Wen Jia Zhang, RockFix
Stanford, CA
Sarah Williams, Minus Materials
Boulder, CO
---
Thank you to our nominators for the second cohort: Acario, Cleantech Group, Earthshot Prize, Energy Capital Ventures, Eindhoven University of Technology, Evergreen Climate Innovations, Galvanize Climate Solutions, Harvard Business School, Imperative Ventures, MaRs, MIT, NREL, Rutgers University, Shell, Shoreline Ventures, Stanford University, University of California – Davis, University of Cambridge, University of Colorado – Boulder, University of Melbourne, Urban Future Lab, and Zoma Labs.