Breakthrough Energy Founder Bill Gates delivered a keynote address to energy leaders at EEI 2023 earlier this month to discuss their commitment to achieving a net-zero future. He was joined at the conference by representatives from 12 of Breakthrough Energy Ventures' (BEV) portfolio companies whose innovative technologies are at the forefront of transforming America's transmission system and imagining a clean energy future.
In Bill's keynote with outgoing EEI Chair Warner Baxter, Warner began by asking Bill about the inspiration behind his climate work and his book, "How to Avoid a Climate Disaster." They went on to talk specifics about the bold steps the United States needs to take to transform the electric grid—from reforming the way we plan, pay for, and permit interregional transmission, to embracing advanced clean energy technologies.
The clear theme throughout the keynote—and the conference— was that achieving these ambitious climate goals isn't possible without innovation, which has been at the core of Breakthrough Energy's work since its founding in 2015.
Bill explained in his address, "It was around 2010 that the idea that we weren't putting money into innovation in the energy space started to concern me in the face of this planetary challenge – energy R&D budgets weren't going up. Whenever I see a problem, I focus on how to bring innovation to bear. How do you build teams, get them the right resources, and is there a solution that can deal with these constraints? Clearly with climate, the brute force solution, which is doing things expensively, is never going to work."
Warner called out one of Bill's most profound quotes from his book, where he wrote, "This will be the hardest thing that humans have ever done." For the energy leaders attending EEI, this is a call to action—and one that will take an unprecedented amount of cooperation.
Bill challenged the audience by saying, "We're no longer able to say, 'Okay, in the near term, it's business as usual, and then that climate thing will happen later.'"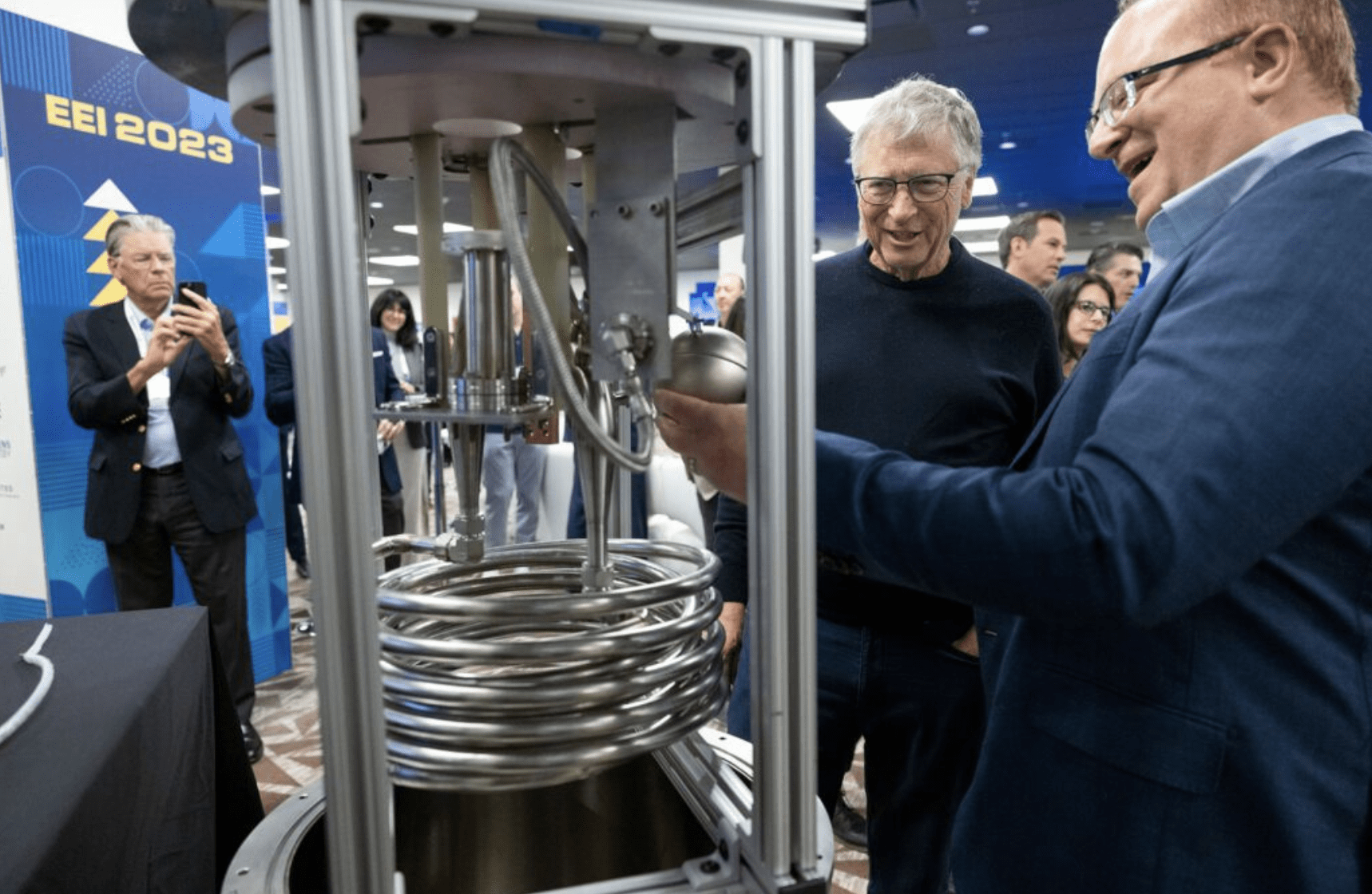 Bill and Warner agreed—innovation is critical to transforming the grid and achieving net zero by 2050. The BEV companies who attended EEI are offering the solutions needed to transform America's transmission system. They shared Bill's assessment of the challenges ahead—and his optimism—as they displayed the impact that their evolving technologies could have on the future of electricity.
Tim Heidel, CEO of VEIR, a company at the forefront of developing the first application of superconducting transmission over long distances, echoed the complexity and urgency of focusing on updating America's grid system. "The energy system that we rely on for electricity is one of the most complex systems that man and humankind has ever produced. A lot of that complexity is nothing that anyone realizes on a daily basis," Heidel said. "You flip that switch and it has to turn on. That's the expectation. That's what we have to maintain. There's a ton of innovation that goes on behind that, and expanding the scale of that entire system 2x to 3x over the next three decades is only going to increase that challenge and complexity. It really is going to be the challenge of a lifetime."
VEIR was one of the companies featured in EEI's "Clean Energy Technology & Innovation Showcase," where panelists discussed the role new technologies will need to play in the energy transition. The Showcase inspired attendees to imagine what's possible for the future of clean energy and focus on the collaboration needed to get there.
Justin Briggs, Co-Founder and COO of Antora Energy, a modular thermal energy storage company that turns solar and wind energy into dispatchable, zero-emissions heat and power, shared, "There's an incredible rising wave of energy around working on climate solutions and putting all of the wonderful expertise that's been developed for other technologies towards solving the climate challenge. So you see people working on technologies across the board, all of it is for the higher purpose of stopping climate change for the greater good, and we're very grateful to be part of that wave."
This excitement and call for collaboration continued in Bill's keynote. Warner went on to specifically call in leaders in the electricity industry and the role they play in transforming the transmission system and working toward a clean energy future.
Bill and Warner concluded their conversation by reiterating the collective goals of transforming the existing grid to meet rising energy needs while keeping costs down and focusing on reliability. The way to do this, they emphasized, is by supporting innovation at every level.
Bill concluded, "The solution in innovation means we can have a green grid where the electricity is not more expensive than today's electricity."
For more on Bill's keynote and the role BEV companies played at EEI, visit https://breakthroughenergy.org/eei.