Last month, the United States enacted the Inflation Reduction Act, investing a historic $369 billion in climate and clean energy solutions. Along with the investments in the recently passed CHIPS and Science Act, the Infrastructure Investment and Jobs Act of 2021, and the Energy Act of 2020, the U.S. has begun rolling out a comprehensive set of policies to scale the clean energy technologies needed to achieve net zero.
All four of these policy efforts will not only develop and deploy critical decarbonization solutions, but also set the stage for the U.S. to become a global producer of clean energy technologies. In other words, U.S. climate policy is increasingly embracing the goal of advancing U.S. competitiveness in the high-growth clean industries of the future.
Building competitive domestic clean industries in the U.S. can further accelerate global climate action. It will demonstrate that U.S. climate policy creates new commercial opportunities and good paying jobs in America, reinforcing private sector confidence and political momentum for further climate action.
U.S. efforts to build competitive domestic clean energy industries can spur a "race to the top" in scaling the emerging technologies needed to achieve net zero and as a result bring down the cost of decarbonization for countries around the world.
By shoring up clean energy supply chains through domestic investment and collaboration with global partners, U.S. investments in competitiveness can also diversify global energy supply chains and improve energy security.
The global market opportunity
A new study by Boston Consulting Group (BCG), commissioned by Breakthrough Energy and Third Way, finds that emerging clean technologies offer substantial long-term economic opportunity if the U.S. makes smart investments today.
BCG studied six high priority emerging clean technologies where there is significant potential for the U.S. to develop a competitive position in global clean tech markets. BCG estimates that these technologies could collectively enable up to 20 gigatons per year in global emissions reductions if they are deployed at the scale needed to achieve net-zero emissions by midcentury.
Electric vehicles
Electrochemical Long Duration Energy Storage
Clean Hydrogen
Direct Air Capture
Steel
Small Modular Nuclear Reactors
With accelerating climate action across the world in line with countries' announced emissions targets, the annual global market for these six emerging technologies could be as high as $2.5 trillion in 2030 and nearly $8 trillion in 2050.
The U.S. domestic market will drive early growth in these emerging technologies, but over the long-term, exports will be critical to scaling the impact of U.S. clean technologies globally. Between 2030 and 2050, BCG estimates that U.S. exports in the six technology areas could be more than twice as large as domestic demand.
By 2050, competitive U.S. companies could achieve about $330 billion in annual exports, exceeding the roughly $200 billion of U.S. fossil-fuel related exports in 2021.
This could translate to roughly 300,000 domestic jobs in the U.S. by 2030, over 1 million jobs by 2050, and over 14 million job-years cumulatively between now and mid-century.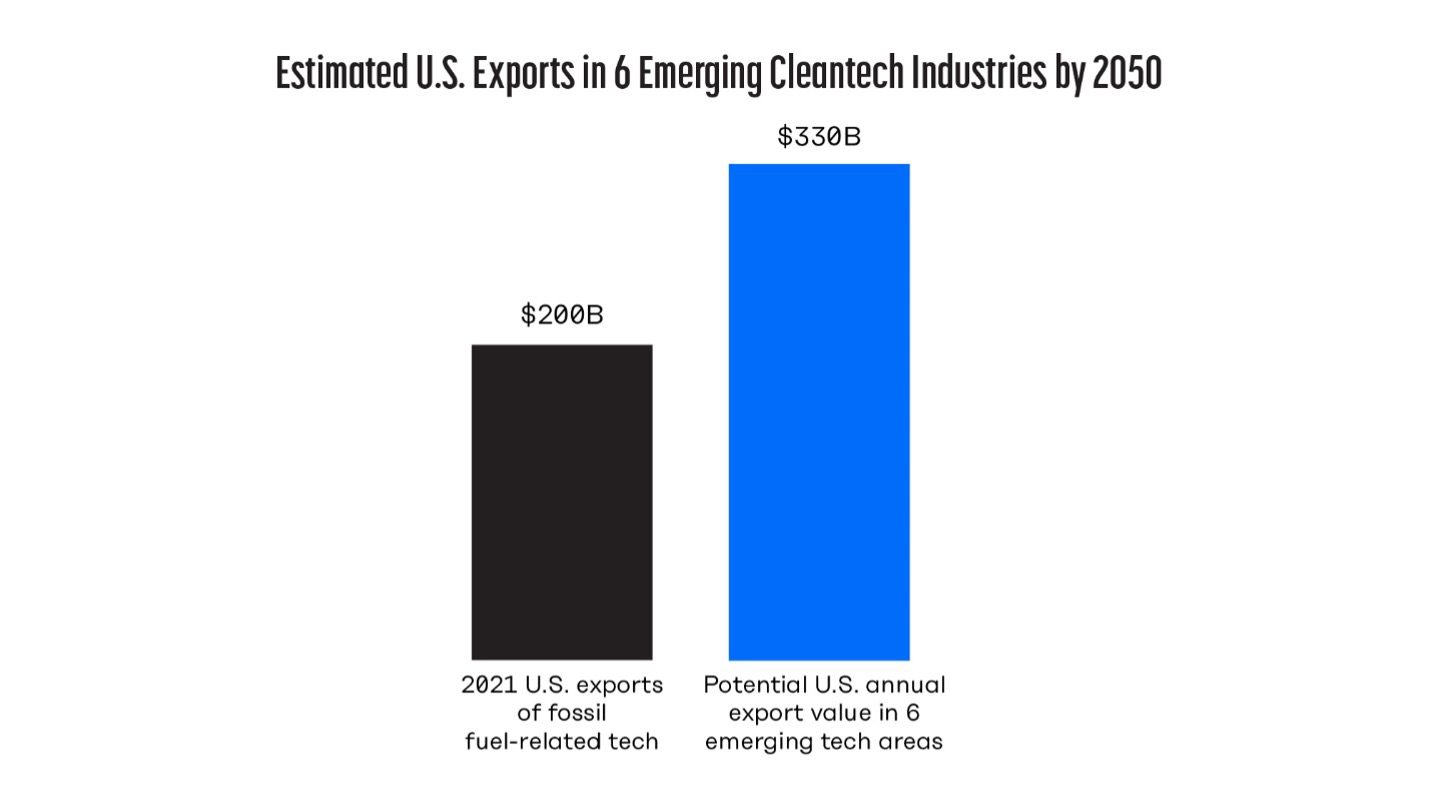 If instead, countries enhance their ambition to achieve global net-zero emissions by 2050, the global market could reach nearly $4 trillion in 2030 and over $11 trillion in 2050. Clean hydrogen and direct air capture would see some of the highest upside, with their global markets in 2050 tripling and doubling, respectively, in a net-zero energy system relative to a trajectory consistent with current emissions targets.
A framework for evaluating competitiveness potential & key findings
Understanding the drivers of competitiveness and how current U.S. market capabilities across the value chains of each emerging technology compare to those of competitors in the global economy will be critical to shaping smart policies that can support the development of durable clean energy industries in America.
Value chain segments:

To assess the potential for America to build competitive industries in each value chain segment of the six technologies, BCG researched U.S. capabilities relative to global competitors in seven key areas.
Key determinants of competitive advantage explored in each value chain segment:
Raw material availability
Intellectual property and innovation
Research and technical leadership
Low operational costs
Demand and supply side policy
Relative domestic market maturity
Regulatory environment and infrastructure
The report found that the U.S. potential to develop competitive industries varied by value chain segment, but in most areas, no other country has yet taken a definitive lead.
Notable existing U.S. competitive advantages include strong R&D capabilities, well-developed legacy auto and nuclear industries to help scale up new innovations, and plentiful low-cost renewables and carbon storage resources to support clean hydrogen and direct air capture technologies.
Across many of the six technology areas, parts of the value chain covering original equipment manufacturing (such as production of long duration batteries and the final assembly of electric vehicles) and commodity offtake (including clean hydrogen, sequestered CO2, and clean steel) present the greatest market opportunity for the U.S.
What's needed next
Many of the policy efforts the report has identified as needed for improving U.S. competitiveness are now being pursued through a combination of provisions in the Energy Act of 2020, the Infrastructure Investment and Jobs Act, the CHIPS and Science Act, and the Inflation Reduction Act. These include:
Tax credits to decrease the costs of emerging technologies and drive demand
Investments in enabling infrastructure, such as electric transmission or hydrogen and carbon transport and storage systems
Increased RD&D funding for emerging technologies
Support to source and process critical minerals and other key supply chain inputs both domestically and from global partners Further policies must also be explored to enable broader adoption of American clean technologies in global and emerging markets.
These efforts include:
Coordinating product and regulatory standards
Improving the availability of project financing
Supporting technical assistance on clean technology deployment
By establishing competitive domestic clean technology industries, the U.S. can maximize the domestic benefits and global impact of its historic climate investments.