F0CUS is a perspective-based sculpture created for the Breakthrough Energy Summit in October 2022. Comprised of over 1,000 individual hand-crafted objects, the artwork stands 13 feet tall and 15 feet wide and is set on a circular base—which represents the number zero.
Breakthrough Energy Content Director Christina Lewis sat down with Jeremy Hodges, CEO of Project Art Collective, and the artists behind F0CUS, to talk more about the sculpture and its impact so far on shaping critical conversations about climate.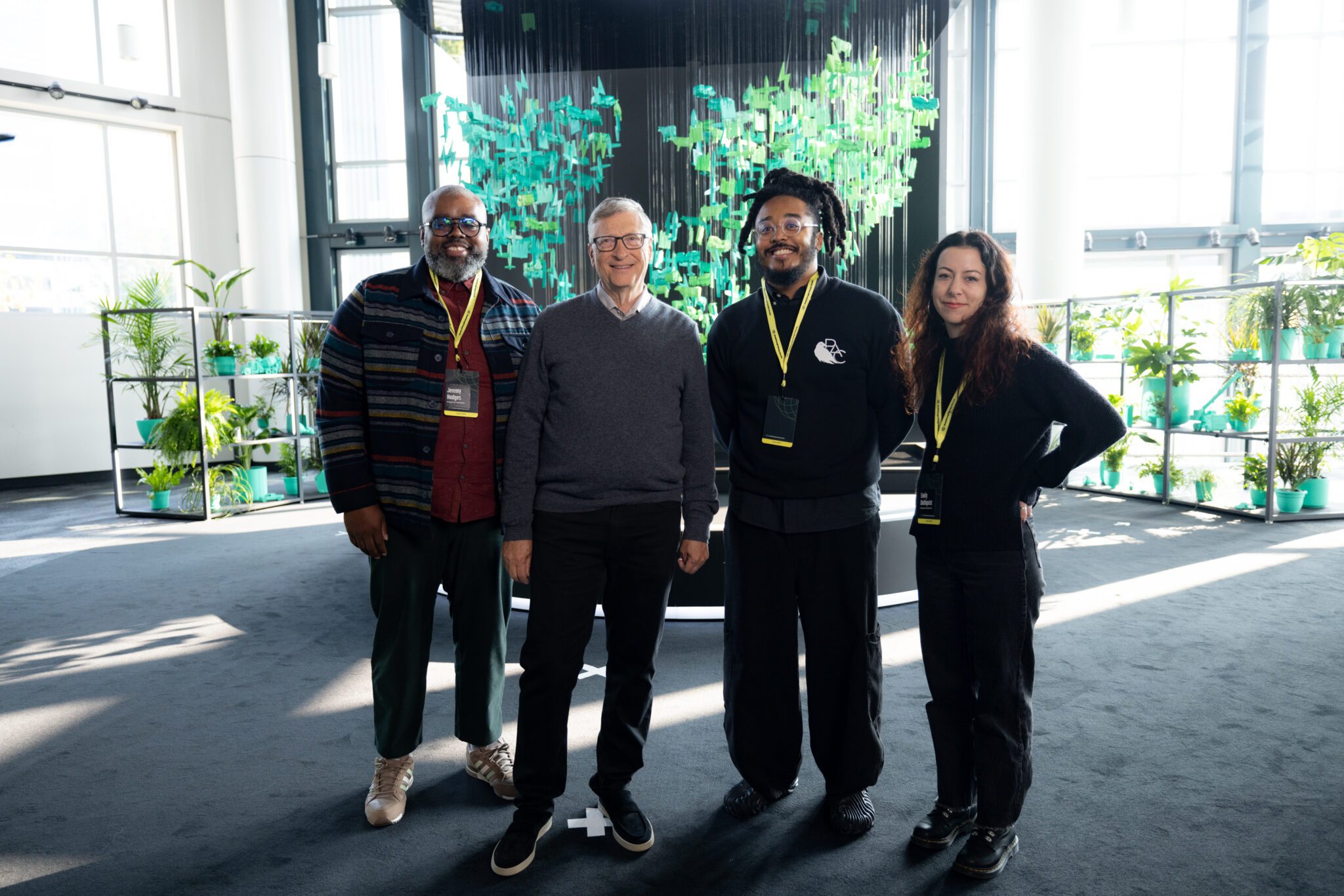 Christina: Jeremy, wow the past few months have been a whirlwind. Not only did our team produce a Summit bringing together over 700 leaders in climate innovation – together we developed this show-stopping art installation that was the centerpiece of our event. Our team has learned so much from this collaboration. I'm excited to share the story behind this F0CUS with the BE Network.
Let's dig in, what is Project Art Collective and how did you become connected with Breakthrough Energy?
Project Art Collective is a multidisciplinary creative studio at the intersection of art, design, experiential, and technology. We are a collective of designers, thinkers, and artists communicating with all people and cultures through art.
I was introduced to Breakthrough Energy and your incredible mission through the wonderful Kristen Liggett, Director of Strategic Initiatives at BE. When she introduced me to you and the team, I knew immediately that I had to be a part of the story in some capacity. We were inspired by BE's approach to solving the climate crisis by looking at the range of solutions across the globe, and wanted to help visualize the purpose of this work.
Together we decided on the F0CUS sculpture, which represents the Five Grand Challenges—manufacturing, electricity, agriculture, transportation, and buildings. What was your process like for deciding the best ways to depict the complicated challenges posed by the main sources of today's global greenhouse gas emissions?
Anytime we start a new project, we immerse ourselves in research to identify an inspiring insight that will drive the core concept. We had the privilege to be able to speak with key stakeholders within the Breakthrough network to gain a better understanding of the mission and goals. The entire PAC team also read the book How To Avoid A Climate Disaster which allowed us to better understand Bill Gates' and Breakthrough Energy's wide-ranging, and accessible approach to get the world to reach net zero greenhouse gas emissions.
We took those insights, along with working closely with you and your team, to conclude that our goal for this sculpture is to shift perspective and provoke thought around Breakthrough Energy's mission of reaching net-zero emissions by leveraging the framework of the Five Grand Challenges. A perceptual art piece was the right visual approach because it is a technique that inherently reflects the shift we need to inspire in the audience. It showcases how a change in perspective can bring new ideas into focus.
I love that and agree—art pieces like the F0CUS sculpture really do have the power to shift perspectives about challenging subjects. What role do you think art plays in addressing the most pressing issues of our time, like the climate crisis?
Enough time spent in the industry has shown me that art can be the ultimate human connector. It can be a catalyst for connection as it traverses, status, language, and identity.
Providing opportunities for connection like F0CUS will inspire people to connect, reflect, and ground themselves is what drove them to this space.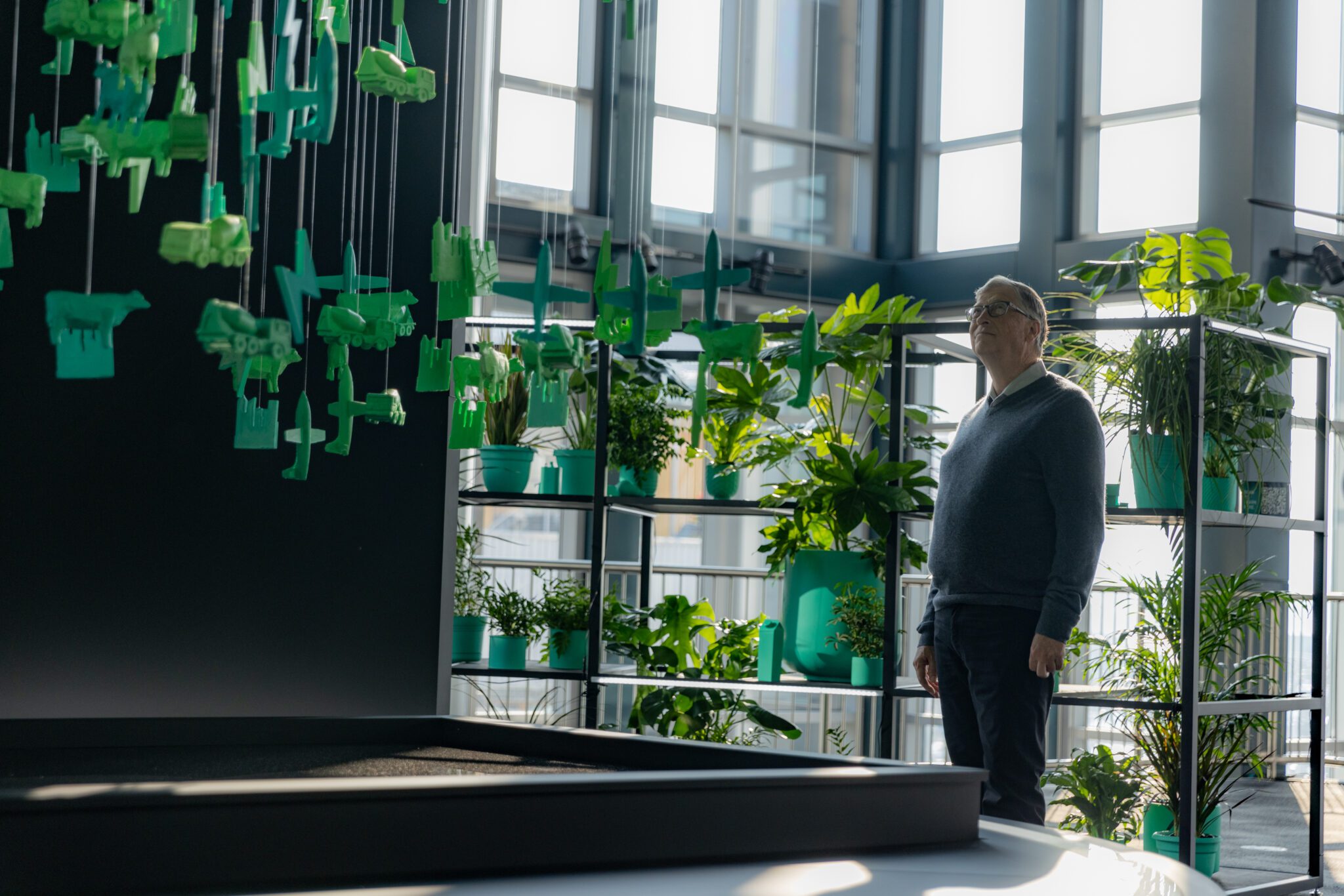 Your team joined us at the Breakthrough Energy Summit in Seattle in October. One of my favorite parts of Summit was witnessing attendees experience F0CUS and reflect on the messages conveyed by the art. What were some of the reactions to the sculpture that stood out to you?
We received a lot of feedback about how beautiful the piece was, but beyond the aesthetic compliments, I appreciated hearing feedback about how insightful, clever, and thoughtful the work was. That shows the power of art to provoke thought. I also haven't come down from the emotional high of hearing Bill Gates say "WOW" when he saw the piece.
That was an incredible moment! We know F0CUS has had such an impact already—what's next for the sculpture?
I think it's time for a world tour—I can be a big thinker! Still, I want as many people as possible to see this piece so we can spark conversations to change how we approach the climate change crisis and bring attention to the work that the Breakthrough Energy network is doing.