It takes a village to raise a start-up. Breakthrough Energy doesn't just provide that patient, targeted capital that is so critical. They also provide a whole ecosystem.
This past fall, a small but mighty group of international innovators gathered in Pittsburgh, Pennsylvania. In this former hub of iron and steel manufacturing, Breakthrough Energy Fellows (BE Fellows) – a group of 49 innovators working on ambitious projects to help us get to net-zero carbon emissions by 2050 and 13 business experts who provide counsel to help bring these technologies to market – convened for the week to kick off their two-year Fellowship or check-in at the mid-point of their Fellowship with the Breakthrough Energy Fellows program through onboarding and community building activities. One of them, Innovator Fellow Aaron Fitzgerald, had a very personal connection to the city.
"Growing up in Pittsburgh, I always wanted to come back and help the people in my community. So being here for Welcome Week surrounded by innovators doing all these amazing things to help make the world livable in the future is a little surreal," Fitzgerald said.
What is Welcome Week?
Earlier in the summer, the second cohort of BE Fellows got the call that they'd been selected for the Breakthrough Energy Fellows Program: the most robust support platform of its kind for early-stage, deep tech, climate tech innovators. Most new Fellows had no idea who else had made the cut. Welcome Week was their first introduction not only to the Fellows program, but also to the dynamic network they were joining.
Marisa Reddy is an Innovator Fellow and Co-Founder of Conduit Tech, a company that builds tools for contractors that make it easier to install and maintain energy-efficient and electric heating, cooling, and air conditioning (HVAC) systems. She said, "When you take this community of people that are just so intelligent and have the influence and the ability to corral resources and solve the problems they want to solve, it's a group that can support each other to weather the ups and downs we encounter in this work."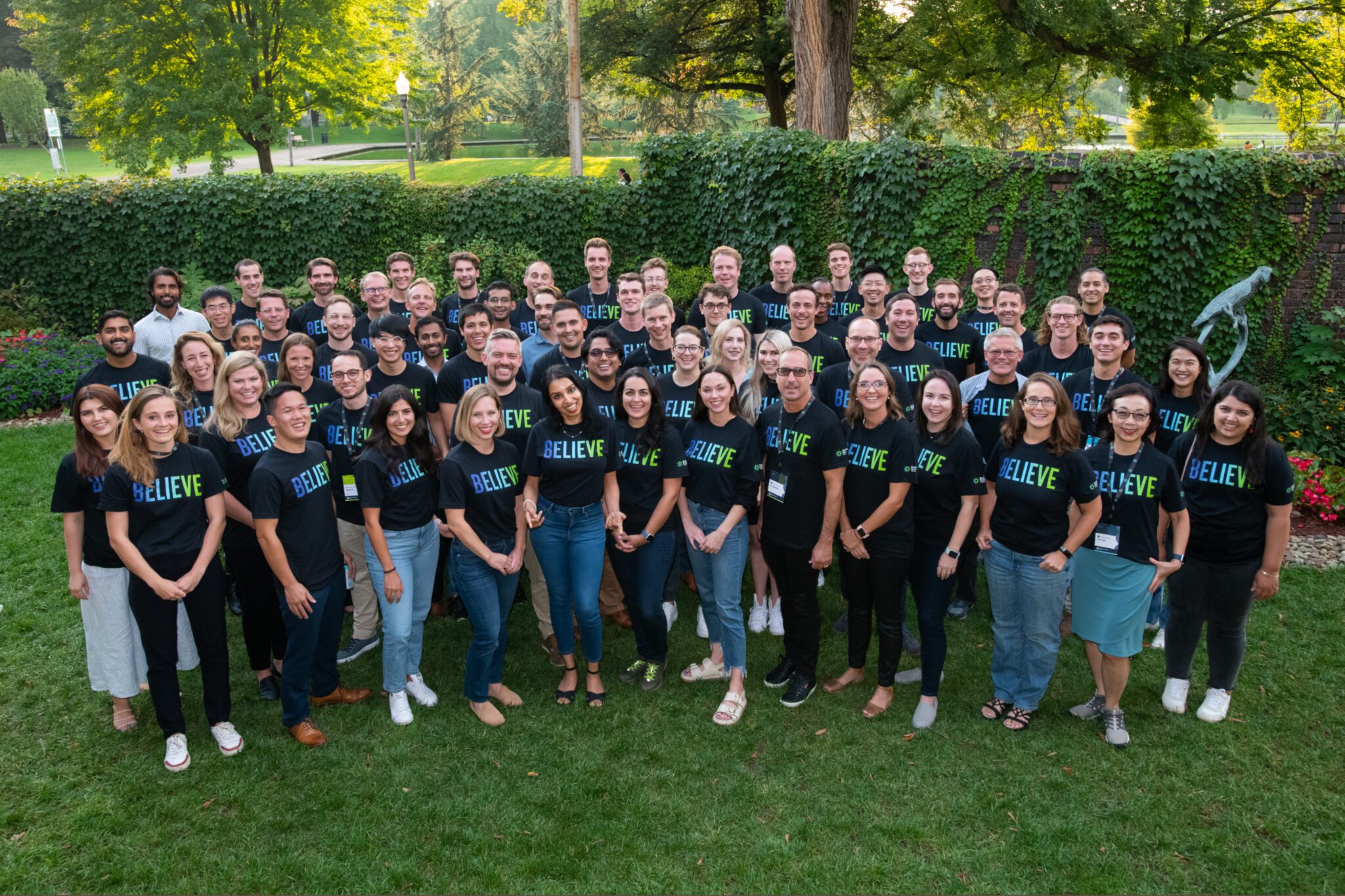 The week's programming was extensive, geared at getting the Fellows ready for the two-year program and the important milestones ahead as they de-risk their technologies and move towards commercialization. Fellows discussed everything from how to build a company culture and grow a team, to how to overcome technical roadblocks when trying to scale up clean hydrogen production. Business Fellows were able to learn about the projects Innovators in both cohorts are working on and start to see ways their skills and expertise could support various teams.
The 16 members of the first cohort of BE Fellows joined as well. In sessions and in conversation, they shared advice on how to make the most of the program's first year: communicate clearly and often with each other and the BE Fellows team, and don't underestimate the importance of hitting your milestones. For many nascent technologies, this first-year support is the difference-maker.
Why do we need the BE Fellows program?
Experts agree the only way to avoid the worst impacts of climate change is to reduce global greenhouse gas emissions from 51 billion tons a year to net zero. The world needs unprecedented technological transformation in almost every sector of modern life to achieve this goal, but today's startup ecosystem is not designed to support climate innovators with the scale and urgency required. The BE Fellows program is helping to bridge that gap.
The program supports innovators developing technologies that address the Five Grand Challenges:
Manufacturing: Manufactured goods and materials – cement, steel, iron – account for nearly one-third of carbon emissions worldwide.
Electricity: We still rely heavily on fossil fuels and other emitting technologies to power our lives, and worldwide energy demand is expected to increase by 50% by 2050.
Agriculture: Agricultural emissions come from the livestock we raise and also the soil itself – we need to bring these emissions to zero while meeting the global demand for food.
Transportation: The transportation sector needs a complete transformation in order to get to net zero, with a focus on everything from electric vehicles to low-carbon fuel development.
Buildings: We can make existing buildings more energy efficient, but we can't address the emissions released when they were built – we need to find ways to both build and use buildings without emitting carbon.
Fellows' companies are targeting processes across many industries: 2021 Fellow Laureen Meroueh's company, Hertha Metals, is developing a way to manufacture steel without coal. 2022 Fellows Molly Yang and Colin Ho started Hgen to develop an electrolysis technology that will allow for the scaled-up production of clean hydrogen. David Ortega, a 2022 Fellow who founded Phase Biolabs, is engineering microorganisms that are faster and more efficient at converting CO2 into electrofuels than typical plants or algae.
Meroueh said the progress Hertha Metals has been able to make in the last year would have been impossible without the resources of the Fellows program.
"It takes a village to raise a start-up," she said. "Breakthrough Energy doesn't just provide that patient, targeted capital that is so critical. They also provide a whole ecosystem. As an Innovator Fellow you get access to these Business Fellows, and also through the BE network you get exposure to the policy side of things, there's insight from Breakthrough Energy Catalyst. We can't do it without this village."
An optimistic launching pad for the journey ahead
Welcome Week events combined opportunities for Fellows to get to know and learn from each other, and also learn about the environment surrounding their projects. Leaders in sectors like transportation and manufacturing spoke on panels about the challenges and opportunities of decarbonization, and policy experts outlined the climate tech policy landscape in Europe and the United States.
The Fellows were joined by Bill Gates and Ashley Grosh, VP of the BE Fellows program, on the last day of Welcome Week in a fireside chat conversation. He spoke to the group about how he first became interested in the topic of climate change, what he has learned and specifically the importance of the potential impact their work could have in addressing climate change and why Breakthrough Energy focuses on continued to invest in early innovation. He spent additional time providing feedback on the Fellows' technology pitches.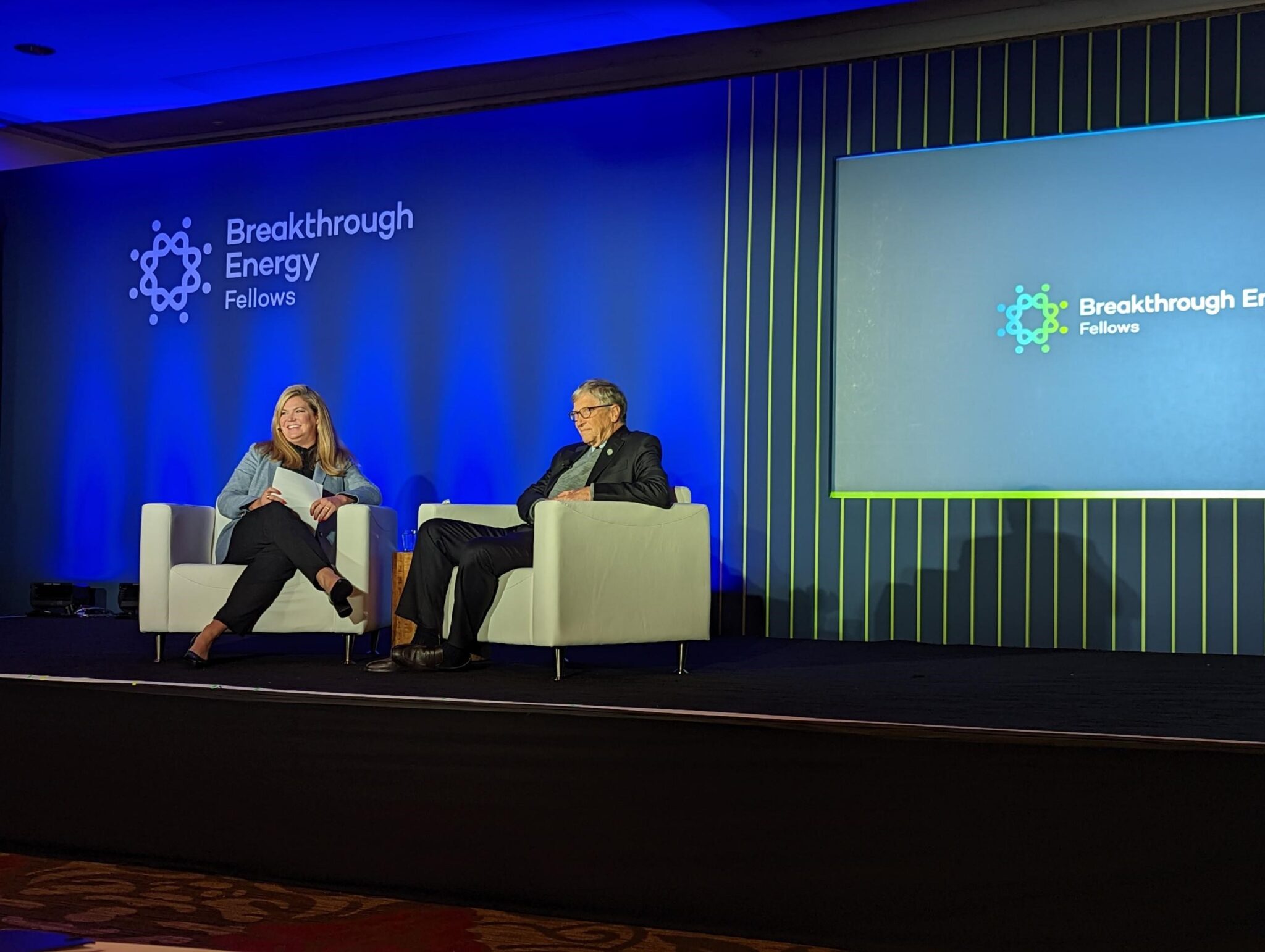 All week long, the energy was palpable – Fellows could be found continuing conversations in the hotel lobby long after the day's programming ended. Marisa Reddy, a Cohort Two Innovator Fellow, said on the last day that she felt a strong connection to the other Fellows.
"The fact that everyone here is guided by the same mission means we're not just a fun group, we also have similar values," she said. "It's a basis for an organic connection. We're all at the start of big journeys and it's going to be hard, so I'm really grateful we have each other."
And in explaining what he appreciates about the Fellows program, Cohort One Innovator Fellow Franck Natali hit upon a foundational value of the program.
"Being here – not just at Welcome Week, but the whole Fellows program – it's nice to have a friendly, happy environment to tackle a problem that's rather dramatic."