The world has turned its attention to the UN Climate Conference (COP26) in Glasgow this week where world leaders will share progress on their climate commitments and discuss what must still be done to reach net-zero emissions by 2050. For Breakthrough Energy (BE), this meeting not only marks six years since our founder Bill Gates announced historic commitments to tackling climate change at COP21 in Paris, but also the launch of a number of significant new partnerships and investments that will meaningfully accelerate the technologies the world needs to avoid a climate disaster.
One of the ways Breakthrough Energy aims to achieve this is through Breakthrough Energy Ventures (BEV). Six years ago, BEV was started to complement the commitment from 22 countries to increase R&D though Mission Innovation. Today, BEV has raised over $2 billion and invested in more than 80 companies from 11 countries across four continents.
This progress led to the expansion of Breakthrough Energy's work via Catalyst, a program bringing the public and private sectors together to move the most promising climate technologies—including direct air capture, green hydrogen, long-duration energy storage, and sustainable aviation fuel—from proof of concept to scale, fast.
Breakthrough Energy recently announced its first group of private sector partners for Catalyst and today welcomed three more. Citi and IKEA Foundation intend to become Catalyst anchor partners, joining the partners announced in September. State Farm has also joined as the first scaling partner, helping to provide further financial support and industry-specific insights to Catalyst. These organizations are willing to make significant grants and/or investments in early commercial demonstration projects, offer perspectives on continued private sector engagement, provide insights on investment and offtake strategies, and help to encourage more companies to join Catalyst.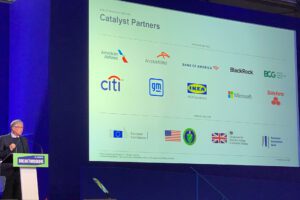 In recent months Catalyst has announced significant public sector partnerships, including with the United Kingdom and United States Department of Energy. During COP, Catalyst also underscored its commitment to working with governments to reduce the cost of the green transition with multiple public partnerships:
Breakthrough Energy Catalyst, the European Commission, and European Investment Bank signed a Memorandum of Understanding to formalize the commitment made earlier this year to mobilize up to €820 million ($1 billion) between 2022-2026 to accelerate the deployment, and rapidly commercialize innovative technologies that will help deliver European Green Deal ambitions and the EU's 2030 climate targets. Each euro of public funds is expected to leverage three euros of private funds for EU-based projects in the four critical technology areas supported by Catalyst.
Breakthrough Energy announced an expanded partnership with Mission Innovation (MI), a global initiative of 22 countries and the European Commission. BE and MI will work together to identify project funding opportunities to develop new clean technologies around the world—with a focus on middle- and low-income countries—maximize the impact of investments, and strengthen the clean energy innovation ecosystem through expanded collaboration with governments across North and South America, Europe, Asia, Africa, and the Middle East.
Breakthrough Energy announced a grant with the Department of Energy's Net Zero World. This new initiative will leverage the Department of Energy National Labs to help countries around the world build technical and investment plans for decarbonization needed in the near- and long-term.
Breakthrough Energy has joined as a primary implementation partner for the First Movers Coalition, a newly announced initiative developed by the U.S. State Department and World Economic Forum to create demand for emerging climate solutions in some of the hardest to abate sectors.
Breakthrough Energy is thrilled to share so many significant announcements at COP26, but we are even more excited to move beyond announcements to focus on the real work required to get critical climate technologies to scale and move the world to net-zero emissions by 2050.
It is a remarkable moment for us. When Bill started this journey at COP21, we were fighting to get the word "innovation" mentioned in the context of climate change. Now, the central session on the biggest stage at COP is the innovation session.