It's always energizing to be surrounded by people who are thinking about the same problems you are. It's like the Fellows network, just a great group of people who are just as energized as you about building a brighter future.
In March, 57 Breakthrough Energy Fellows representing 11 countries arrived in National Harbor, Maryland for the ARPA-E Energy Innovation Summit, an annual conference and technology showcase that brings together researchers, founders, investors, and government leaders to explore opportunities for innovation and partnership.
ARPA-E, the Advanced Research Projects Agency-Energy, is a critical government agency. Modeled after DARPA, the original Advanced Research Projects Agency based at the U.S. Department of Defense, ARPA-E is a leader in funding early stage innovation in the energy space. ARPA-E is tasked with tackling our most challenging energy problems by discovering, promoting, and funding energy technologies that are too early stage for private sector investment.
For the BE Fellows, ARPA-E represents an exciting opportunity to connect with their peers across sectors and industries, discussing new and proven approaches to address the most pressing climate challenges we face.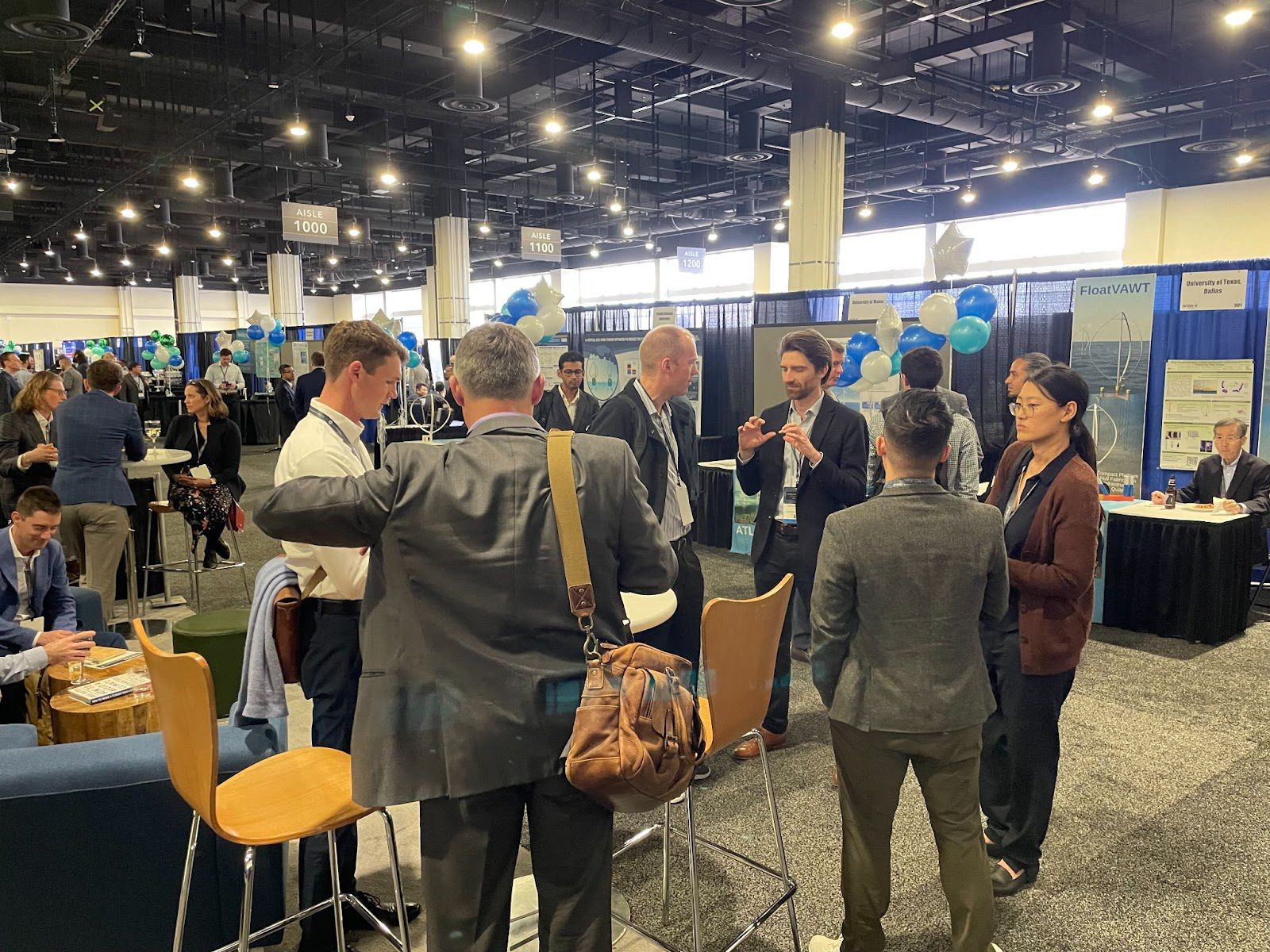 An environment for innovation
Since its founding in 2009, ARPA-E has spent more than $3.4 billion on pressing clean energy projects that range from highly optimized sensor systems designed to slash energy use to clothing inspired by squid skin.
The BE Fellows – who are developing critical climate technologies like electrofuels and clean ammonia – represented the emerging generation of energy innovators at the Summit.
Summit speakers highlighted how recent legislative wins, specifically the Infrastructure Investment and Jobs Act, the Inflation Reduction Act (IRA), and the CHIPS and Science Act, have created an unprecedented enabling environment for accelerating clean energy innovation.
"What we've seen in clean energy is that we've fallen asleep at the switch – we haven't had a robust strategy," said David Turk, U.S. Deputy Secretary of Energy. "We've innovated, but until now we haven't really set up an ecosystem that allows good ideas to flourish."
This level of commitment illustrates how important continued innovation is in the effort to reach net-zero carbon emissions by 2050. This is a founding principle of Breakthrough Energy and the BE Fellows program, which supports innovators and business experts at the early stages of developing new technologies with the potential to decarbonize essential industries like steel, cement, and fertilizer.
In a conversation at the Summit with Aliya Haq, Breakthrough Energy Vice President of U.S. Policy and Advocacy, White House Deputy Chief of Staff John Podesta underscored the importance of unleashing the potential of the private sector to make swift progress on clean energy solutions.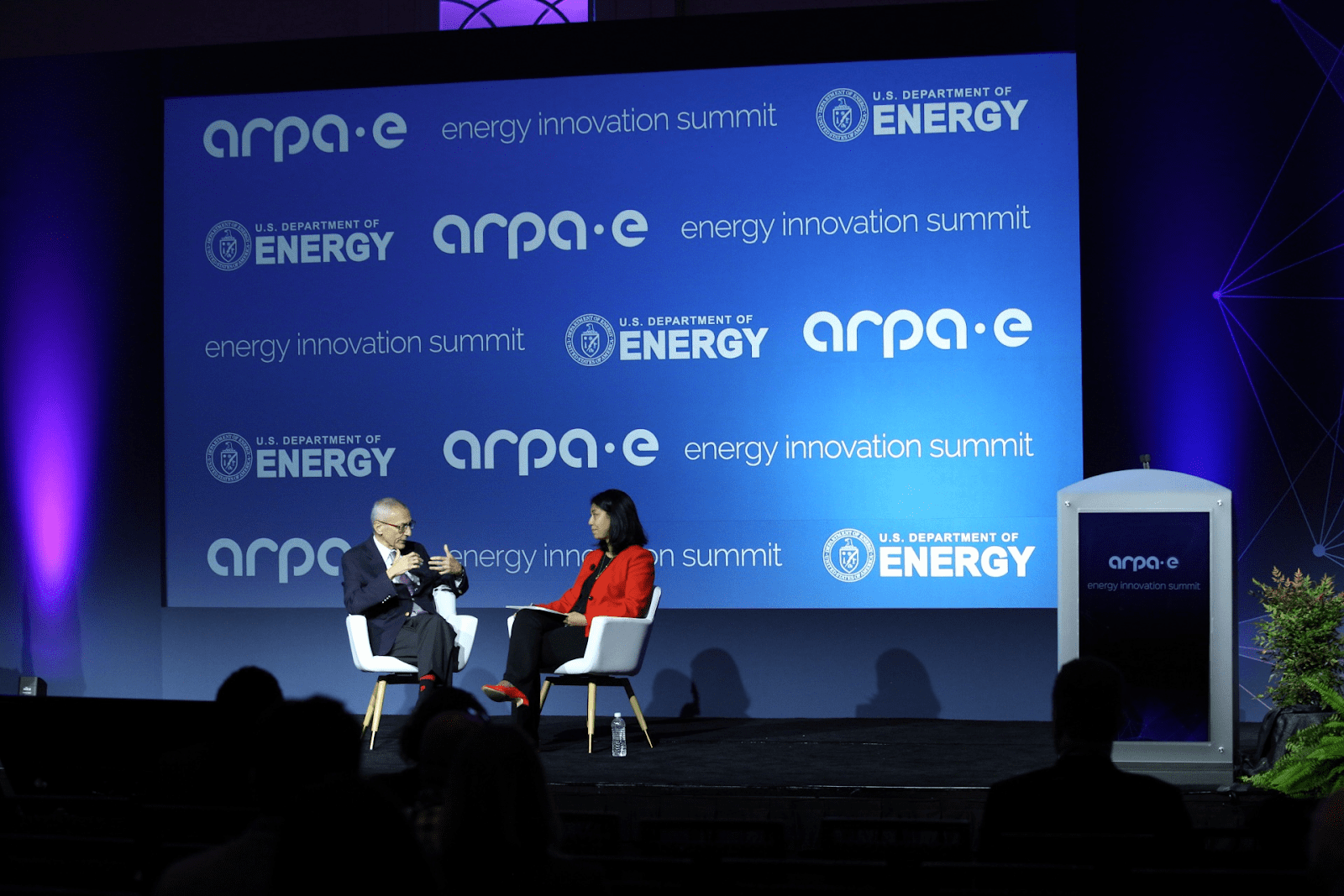 "The U.S. now has a strategy that's government-enabled, but private sector-led," Podesta said. "There's never been a better time to invest in clean energy – this is rooted legislation and there's no going back."
Solutions across the Five Grand Challenges
The BE Fellows' projects span all Five Grand Challenges, the sectors that are the main sources of today's greenhouse gas emissions and need to be transformed in order to achieve a net-zero economy: manufacturing, electricity, agriculture, transportation, and buildings.
These sectors, and the industries within them, such as steel and cement, were top of mind for Summit attendees.
BE Cohort Two Fellows Vidyut Mohan and his partner Kevin Kung were glad ARPA-E speakers mentioned the importance of transforming agriculture. The agriculture sector accounts for 12% of greenhouse gas emissions – Mohan and Kung's company, Takachar, has developed small-scale, low-cost equipment that allows rural communities to turn agricultural waste, which would normally be burned, into carbon-rich bio products.
"One aspect of working in agriculture is that the impact can be more broad and multi-dimensional," Mohan said. "Improving air quality has long-term climate benefits and also directly impacts people's lives today."
Many ARPA-E sessions also focused on carbon management – reaching our net-zero goal and limiting global warming to 1.5 degrees Celsius will require solutions for capturing existing carbon emissions. Cohort Two BE Fellows Danielle Colson and Cameron Halliday are decarbonizing process heating at Mantel, capturing carbon at high temperatures and increasing efficiency by recovering heat.
Five BE Fellows, representing both cohorts, have received ARPA-E funding so far: EvolOH and Verne in Cohort One, and Aikido, Molten, and Gencores in Cohort Two.
Optimism about our energy future
For Cohort One Innovator Fellow Sarah Lamaison, co-founder of Dioxycle, a company providing a way to convert carbon dioxide emissions into usable products, the three days were a whirlwind of meetings – and a "can't miss" opportunity.
Like her other Cohort One BE Fellows, Lamaison will graduate from the BE Fellows program in six months. That means Lamaison and her partner David Wakerley are in the process of raising Series-A funding for their company Dioxcyle. They have been successful in leveraging the BE Fellows program to de-risk their technology, and scale up their facilities, testing capabilities and their team.
"These people are absolutely the right ones for us to meet," Lamaison said. "At ARPA-E you very quickly get into meaningful conversations about technology, the innovation and the cost structure, where we can go from here."
Excitement about the future was palpable at the Summit, as presentations and hallway chatter among the more than 2,000 attendees centered around the transformative potential of recent legislation, unprecedented levels of public- and private-sector investment, and new technologies across sectors.
Climate investor and Breakthrough Energy Ventures board member Vinod Khosla spoke about the twelve key industries where the right scalable solutions could significantly accelerate the clean energy transition – some, such as electric vehicles and meat production, are already seeing shifts due to the impact of companies like Tesla and Impossible Foods.
BE Fellows know their companies could scale the necessary breakthroughs that herald a new era for their respective industries and, possibly, society at large. It was clear, however, that it truly takes a village to bring these startups to the market. ARPA-E continues to be a critical platform and ecosystem that will help us make meaningful progress towards commercializing the transformations we need most.
"It's always energizing to be surrounded by people who are thinking about the same problems you are," said Danielle Colson. "It's like the Fellows network, just a great group of people who are just as energized as you about building a brighter future."